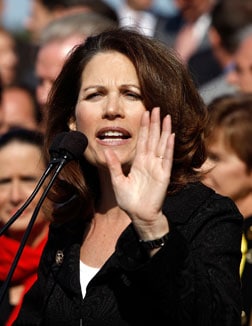 I recently wondered whether presidential candidates' anti-gay policies and rhetoric will one day become a campaign-sinking liability.
Michael Miller of the Miami New Times appears to agree, and hypothesizes in a new column that one of the reasons Michele Bachmann can't win ever-important Florida is because of her past statements on the gays:
South Florida is home to one of the nation's largest LGBT communities. Bachmann's habit of likening their sexual orientation to slavery or sickness won't win her many votes.

If that wasn't enough to write off the gay vote, Bachmann's husband is George Rekers all over again: an über-Christian who claims to know more about gays than they do. His "clinic," Bachmann & Associates, engages in controversial and possibly psychologically damaging pray-the-gay-away therapy. Marcus Bachmann is on tape calling gays "barbarians" who "need to be educated."
While anti-gay George W. Bush won the Sunshine State in both 2000 and 2004 — the former after the Supreme Court ruled in his favor –  gay-friendly Obama won in 2008 by a slim majority, which indicates that Miller's analysis could indeed become a reality in 2012.