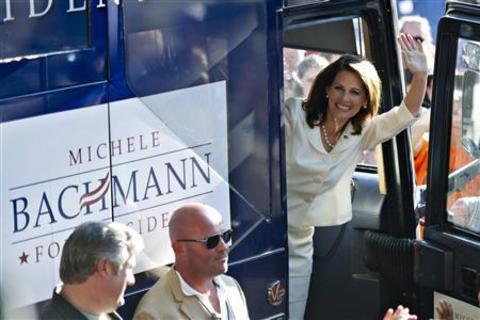 It was a good Saturday for presidential candidate Michele Bachmann, who won yesterday's symbolic Ames Straw Poll with 4823 votes. Ron Paul came in a close second with 4671, and Tim Pawlenty struggled into third with 2293.
Bachmann wasted no time sending out a celebratory fundraising email to supporters thanking them for the "historic" votes.
"I want to thank the people of Iowa for for this tremendous victory," she said.
Together we sent a message that we intend to make President Obama a one term president. The Iowa Straw Poll was a important first step in what will be a long race for the presidency. Now we turn our attention toward winning the Iowa Caucuses and taking our message of reining in wasteful spending, keeping taxes low, growing our economy and creating jobs to the people of New Hampshire, South Carolina and all 50 states.
As for Pawlenty, apparently that third-place showing was enough to convince the former Minnesota governor that he doesn't have what it takes to win the GOP nomination: he will reportedly announce this morning that he's packing up his campaign and headed home.
With regard to the other nominees on the ballot yesterday: Rick Santorum received 1657 votes, Herman Cain counted 1456, Mitt Romney received a surprisingly low 567, Newt Gingrich 385, Jon Huntsman 69 and Thaddeus McCotter received 35 out of the 16,892 cast. Rick Perry, who announced his campaign yesterday and wasn't on the poll, received a 718 write-in votes, suggesting that he has massive support in the Hawkeye State.