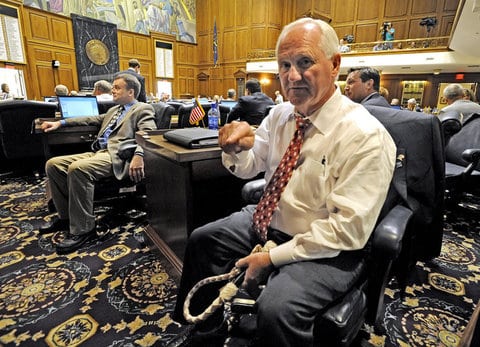 "Sad." That appears to be the dominant adjective being used to describe revelations that Republican State Rep. Phil Hinkle of Indiana
tried to pay for gay sex
.
That state's Republican Governor Mitch Daniels, for example, said he was "sad about it" and described the scandal as a "personal family tragedy." House Speaker Brian Bosma, also a Republican, remarked, "If the circumstances are as reported, it is an extremely sad and disappointing situation for all of us, especially the families involved."
While Republicans may see the situation as politically sad, Indiana Stonewall Democrats activist Aaron Schaler used the word in a different context: "This is almost a textbook example of what happens when someone is not allowed, by either community attitudes or by personal conflicts, to be open about their sexual orientation or gender identity."
Regardless of why people lament Hinkle's situation, there are growing calls from all quarters for the 64-year old to step down.
Read more, AFTER THE JUMP…
Via the Indianapolis Star:
"I strongly recommend that Representative Hinkle resign his position," said Marion County Republican Chairman Kyle Walker, "so that he can focus on his family and not have this situation detract from that or the work that needs to continue in his legislative district."
….

Andy Harris, Wayne Township trustee and former Wayne Township GOP chairman, said the people he has spoken to in Wayne Township are "just shocked and floored."

"It is not something they expected from Phil Hinkle," said Harris, who attends St. Christopher Catholic Church with him and considers him a friend. "But if found to be true, he definitely needs to step down. . . . There's no way I could support somebody running for an elected office doing that to their spouse and their family."
….
Hinkle's district is "fairly solid Republican" but with a strong contingent of evangelical Christian voters, said Brian Vargus, political science professor at Indiana University-Purdue University Indianapolis.

House Republicans will be looking to retain a supermajority of 66 members in the next election, Vargus said. "And I think they would walk away from Hinkle" unless he can prove he didn't do anything wrong.
For his part, Hinkle has made no indication whether he plans to step aside, but don't be surprised if he makes a decision early this week.