the military publication Stars and Stripes today talks about what will happen with closeted servicemembers once the ban is lifted at the end of September, and interviews a few of them anonymously about whether they will some out or not: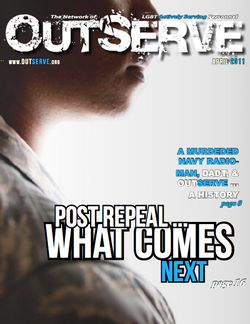 When the "don't ask, don't tell" law is repealed next month, gay troops will be able to serve openly without fear of dismissal for the first time in U.S. military history.
But whether most will come out or keep their personal lives secret remains unclear. Gay troops' careers will no longer be threatened by law, but many worry that the macho culture of the military might not be fully ready for those revelations.
And when that day comes, the troops will have something to read:
OutServe Magazine will hit store shelves at Army and Air Force bases on Sept. 20, the day the Pentagon plans to formally end enforcement of the "don't ask, don'tI tell" policy that bans gays from serving openly.
The publication is published by OutServe, a group of secretly gay active duty service members that says it has hundreds of members currently serving in Iraq and Afghanistan.
The magazine, which began publishing in the spring, is currently available in limited supply at some public meeting areas and military physicians offices, the group said.