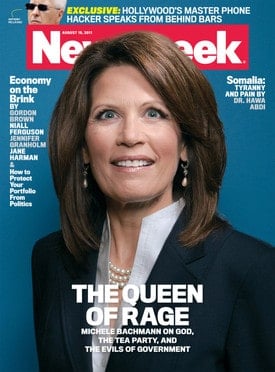 Michele Bachmann has made a habit of avoiding inquiries about marriage equality and her husband's homophobic professional work.
The Republican presidential candidate dismissed one Iowa news station's questions about her husband's ex-gay clinics, later stonewalled a reporter from that same channel and then dodged related questions at the National Press Club.
Now it appears Bachmann has done the same thing to New Hampshire's Concord Monitor, via Politico.
Bachmann cut off an interview last week as she was being asked a question about gay marriage and emphasized that she is focused on rebuilding the economy and repealing federal health care reform.

"I'm not involved in light, frivolous matters," she said. "I'm not involved in fringe or side issues. I'm involved in serious issues."
Alexander Burns seems to think that Bachmann is trying to move away from divisive social issues — part of the elusive culture war "truce" — but it seems just as likely she's trying to avoid a Pandora's box of a negative news story about her discriminatory politics.
Speaking of Bachmann, she's all over the cover of Newsweek's latest issue.