David Norris, a gay candidate once considered the front-runner in Ireland's presidential race, has bowed out of the race, following the disclosure of letters to Israeli authorities asking for clemency for a former partner, the Irish Times reports: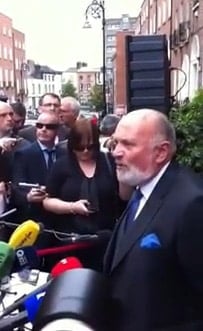 It emerged last weekend that Mr Norris wrote a letter in 1997 to the Israeli authorities pleading on behalf of Ezra Yitzhak Nawi, who had been convicted of the statutory rape of a 15-year-old boy.
Mr Norris's campaign suffered a serious blow last night when three Independent TDs withdrew their pledge to support the Trinity Senator's nomination. Other members of the Dáil and Seanad who had pledged support for Mr Norris are also considering their position in the light of the disclosure that the Senator wrote a letter pleading for leniency for his former partner.
Said Norris: "I deeply regret the most recent of all the controversies concerning my former partner of 25 years ago, Ezra Yitzhak Nawi. The fallout from his disgraceful behaviour has now spread to me and is in danger of contaminating others close to me both in political and personal life…It is essential that I act decisively now to halt this negative process. I do not regret supporting and seeking clemency for a friend, but I do regret giving the impression that I did not have sufficient compassion for the victim of Ezra's crime…"
Watch the Norris press conference, AFTER THE JUMP…