Last night I posted about the tragic anti-gay attack that led to the death of Marcellus Andrews in Waterloo, Iowa last Friday. Looks like the police are questioning whether it was a hate crime.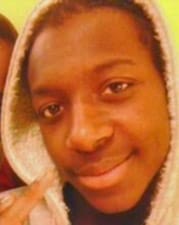 KGAN reports:
The two friends can't hold back their tears when they think of Marcellus Andrews' violent end. "It just hurts because he didn't deserve to get treated like that," says Lanier. Now they're left wondering if he was targeted, beaten to death, in part, because he was gay.
"Some people treated him differently because they thought his sexuality, that's just how Marcellus acted. I didn't look at him like that," says Lanier.
Friends who were with Marcellus on Friday say his attackers called him gay slurs before they started beating him. Waterloo police are investigating that as a motive. But they also say Marcellus already had a history with his attackers and they'd been involved in a fight months before.
"There was some bad blood between that and they just happened to bump into each other and some other people got involved in the altercation and it kind of escalated from that," says Waterloo Police Lieutenant Michael McNamee.
Blogger Aksarbent takes note of the lieutenant's statement:
"Just happened to bump into each other," Lieutenant McNamee? Really? When a truckload of the people who beat him to death drove to the house in which Andrews sat in an enclosed porch?
LGBT rights group One Iowa issued a statement today:
"We are deeply saddened by the brutal and tragic death of Marcellus. This is just not something that happens in Iowa and we are appalled at this level of extreme violence and intolerance," said Troy Price, One Iowa Executive Director. "Tragedies like this underscore the incredible need to talk about issues affecting gay and lesbian Iowans and to fight for equality in our communities. When community, state, and national leaders ridicule and deride gay and lesbians, it creates a hurtful environment and gives license to this sort of attack. Most importantly, it harms lesbian, gay, bisexual, and transgender (LGBT) young people by sending the message that they are not equal. We can and must do better, because we can never, ever allow an attack like this to take place in Iowa again."
"Our prayers and thoughts go to Marcellus' family, friends, and the Waterloo community. No one deserves this. Enough youth have hurt each other and themselves over differences, bullying, harassment, and taunting," said Nate Monson, Iowa Safe Schools Executive Director. "Andrews' tragic death points the crucial need for us to address anti-LGBT bullying in our schools because, sadly, this is literally a life or death issue. We must ensure that LGBT children feel safe and supported in their school and community. Iowa Safe Schools is committed to creating a more safe and supportive state for all Iowa kids."
Previously…
Iowa Teen Beaten to Death by Mob in Anti-Gay Attack: VIDEO [tr]