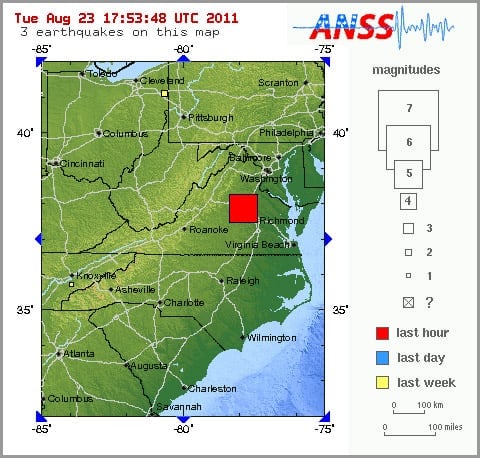 An earthquake located 87 miles southwest of Washington D.C. struck just before 2 pm EDT. The quake was initially measured at 5.8 but has been upgraded to 5.9 by the USGS. The quake was felt across the northeast, as far as NYC, Toronto, Indianapolis, and Boston.
The quake had a very shallow depth of 0.6 miles.
The Pentagon and Capitol Building in Washington were evacuated, as were courthouses in New York City. The earthquake sent Washington office workers scurrying into the streets.
The earthquake was the largest felt in Virginia since a 5.9 in 1897.
In related news, the largest earthquake in Colorado in more than a century struck on Monday night in Colorado, but nobody seemed to care.