Libertarian pundit: "It is doubtful Hurricane Irene will cough up 8 bodies." The death toll now stands at 18.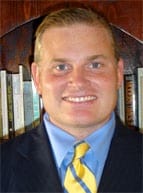 Brian Brown (left), head of National Organization for Marriage, says gays make religious people feel like "second-class citizens." Really, now?

Lady Gaga has high praise for Adele. But they'll unavoidably be rivals at tonight's VMAs. What will Gaga wear? Here's a survey of her latest outfits.

From Gaga to Qaddafi – the Libyan dictator was reportedly spotted in Zimbabwe. (Warning: graphic content)

Glenn Beck says Hurricane Irene is a "blessing" because it is "God reminding you" that you need to be stockpiling food for the end times. (With audio)

New Apple CEO Tim Cook – dubbed "the most powerful gay man in the world" – has been promised a million company shares. That works out to more than $300 million.

A film about Iranian lesbians is rankling some feminists.

Homophobia and Islamophobia overlap.

A woman wakes up in a strange room with no idea how she got there. Watch the short film.

Poop is allegedly flung in a 4.8 inch NY property dispute.