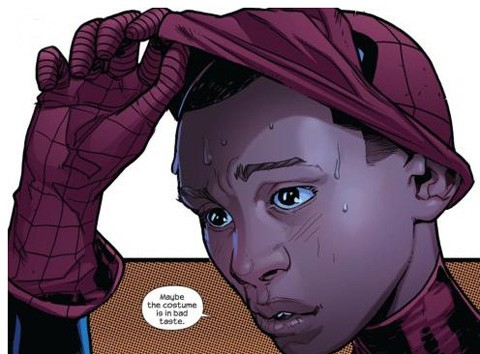 Miles Morales, a half-Black, half-Hispanic teen, has been introduced as the next Spider-Man. Marvel Comics killed off Peter Parker in the series Issue #160 in June.
In his first appearance, he simply breaks up a fight. But readers will learn the true origin of Morales and how he became the new Spider-Man when Ultimate Spider-Man relaunches in September with a new No. 1 issue.
Morales' journey will be a similar vehicle for today's fans, says Marvel's editor in chief, Axel Alonso.
"What you have is a Spider-Man for the 21st century who's reflective of our culture and diversity. We think that readers will fall in love with Miles Morales the same way they fell in love with Peter Parker."
One of Marvel's artists also raised the notion that Spider-Man could one day be gay:
Italian artist Sara Pichelli, who was integral in designing the new Spider-Man's look, says, "Maybe sooner or later a black or gay — or both — hero will be considered something absolutely normal."
In related news, check out a new image of Andrew Garfield in his Spider-Man costume for the upcoming film, AFTER THE JUMP…