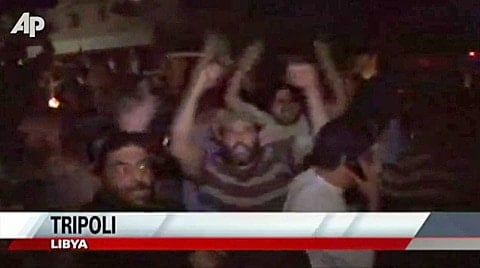 Libyan rebels appear to have taken control of the capital Tripoli:
Following a euphoric night, during which the rebels swept into the capital and appeared to be edging their six-month struggle towards triumph, clashes were reported in the vicinity of Gaddafi's complex, known as Bab al-Aziziya, and Tripoli remained tense and anxious. Foreign journalists in the city reported hearing gunfire and explosions, while pockets of resistance appeared to be launching last-ditch attempts to fight back.
Watch raw video of civilians in Libya's capital, Tripoli, as convoys of rebels enter the city, AFTER THE JUMP…
The latest from Al Jazeera:
Libyan rebel sources have told Al Jazeera that NATO is planning on launching strikes against the walls of Gaddafi's Bab al-Aziziya compound, in order to break into it. The rebels are calling for all residents of the area to stay away from the compound.
Gaddafi's whereabouts remain unknown at this hour.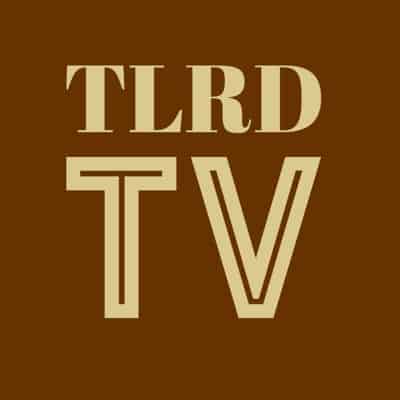 Obama's statement on Libya, calling for Gaddafi to step down: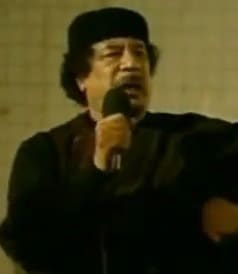 Tonight, the momentum against the Qadhafi regime has reached a tipping point. Tripoli is slipping from the grasp of a tyrant. The Qadhafi regime is showing signs of collapsing. The people of Libya are showing that the universal pursuit of dignity and freedom is far stronger than the iron fist of a dictator.
The surest way for the bloodshed to end is simple: Moammar Qadhafi and his regime need to recognize that their rule has come to an end. Qadhafi needs to acknowledge the reality that he no longer controls Libya. He needs to relinquish power once and for all. Meanwhile, the United States has recognized the Transitional National Council as the legitimate governing authority in Libya. At this pivotal and historic time, the TNC  should continue to demonstrate the leadership that is necessary to steer the country through a transition by respecting the rights of the people of Libya, avoiding civilian casualties, protecting the institutions of the Libyan state, and pursuing a transition to democracy that is just and inclusive for all of the people of Libya. A season of conflict must lead to one of peace.
The future of Libya is now in the hands of the Libyan people. Going forward, the United States will continue to stay in close coordination with the TNC. We will continue to insist that the basic rights of the Libyan people are respected. And we will continue to work with our allies and partners in the international community to protect the people of Libya, and to support a peaceful transition to democracy.
Watch raw video of civilians in Libya's capital, Tripoli, as convoys of rebels enter the city, AFTER THE JUMP…