A report from Uganda's Daily Monitor suggested that the "kill the gays" bill had been rejected: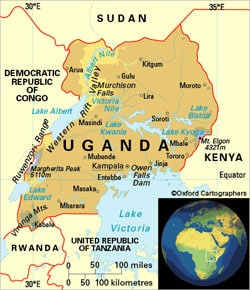 Cabinet has finally thrown out the Anti-Homosexuality Bill, 2009 on the advice of Mr Adolf Mwesige, the ruling party lawyer. However, Ndorwa West MP David Bahati, the architect of the Bill, insists the proposed legislation is now property of Parliament and that the Executive should stop "playing hide- and- seek games" on the matter.
The decision to throw out the Anti-Homosexuality Bill was made at a Cabinet meeting on Wednesday where Mr Mwesige, according to sources, told ministers that the Bill was unnecessary since government has a number of laws in place criminalising homosexual activities.
"We agreed that government should search the law archives and get some of the laws, enforce them rather than having another new piece of legislation," a source said. "He [Mwesige] said the Bill is overtaken by events and that donors and other sections of the public were not comfortable."
However, rejection by the Cabinet has little effect on Parliament, where the bill is very much in play, Jim Burroway expains, adding:
Recent reports have speculated that the Anti-Homosexuality Bill would be brought back sometime in the second half of August, while another unconfirmed report placed the timing in November. Consistent throughout however is the concern that the bill would be brought up surreptitiously.