And the anti-gay discrimination from the Boy Scouts of America continues. In this case, it doesn't matter that you are  an "uber leader" in the Scouts for 10 years, or are in a 20-year committed relationship with two children who excel. If it is discovered that your relationship is with a woman, you are through.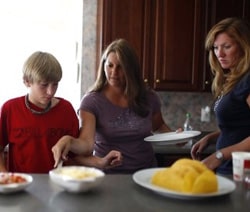 The Loudoun Times reports:
In retrospect, the situation was probably good – her son's troop excelled at everything, including accomplishing badges and winning the Blue and Gold Award all five years, one of the highest awards for Boy Scouts.
Above all, like any mother, Steele put her son first and wanted to make sure he had a great time in scouts. But in June, Steele's chances to further bond with her son through scouting were dashed. The mother was removed from the troop after one of the other assistant scout masters discovered Steele is a lesbian.
Steele was discovered by an assistant scout master one weekend on a camping trip:
After discovering that Steele's partner had picked her up, Inabinett felt that she should be removed as an assistant scout master. In an email that Inabinett sent to a close personal friend of Steele's and whose son was also in the troop, he stated, "If what you said about Denise Steele being an active sexual is true, do you feel comfortable talking with her about stepping down/resigning as an ASM … as her friend, this may be an opportunity for you to share with her about Christ's love and the need to believe that as sinners we cannot get to heaven on our own and that we need a savior."
More communication between both Steele and Inabinett went on for the next couple of weeks. The conversations centered around how Inabinett thought Steele's lifestyle choice was a sin. Funk described the situation between Steele and Inabinett as bullying, and it left Steele crushed and in tears through the many email exchanges.
"But this guy, who's demonstrated very much a bullying behavior, if boys bullied other boys or girls bullied other girls to get what they wanted the way this guy has bullied her in today's school system you'd probably get kicked out of school," Funk said about Inabinett.
Potomac Falls woman removed from son's Boy Scout troop [loudoun times]