Back in August 2009, you may recall, Anchorage, Alaska Mayor Dan Sulivan vetoed an LGBT anti-discrimination ordinance passed by the Assembly. Sullivan said he hadn't seen any evidence of discrimination.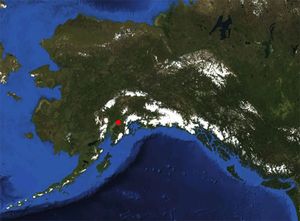 Now they're trying again, this time via the ballot, the Anchorage Daily News reports:
A local group — One Anchorage — filed an application Thursday that would put an initiative on the April 2012 municipal election ballot asking voters to ban discrimination against lesbian, gay, bisexual and transgender people…
…As it stands, the anti-discrimination ordinance already makes it illegal to withhold housing, employment and other opportunities based on race, gender, age, religion, marital status, or physical and mental disability. One Anchorage wants voters to add "sexual orientation or transgender identity" to the list, said the group's spokesman, Trevor Storrs.
"It's a new name for a very old cause that we've all been working toward, which is the same legal protections for all. It's been going on for decades," Storrs said. "What this initiative does is ensures that the gay and transgender Alaskans, who work hard and play by the rules, will have the exact same legal protections as any other Anchorage resident."