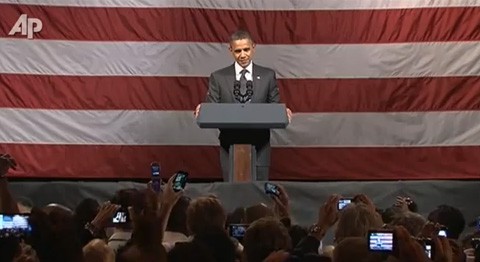 President Obama was heckled by a wingnut named David Serrano at a House of Blues fundraiser last night in L.A..
Yelled Serrano:
"The Christian God is one and only true living God! The creator of heaven and the universe! Jesus Christ is God! Jesus Christ is God! Jesus Christ is still our God! Jesus Christ is still God! You are the Antichrist!"
The heckler was identified as David Serrano, the NYDN reports:
Tony Bell, spokesman for Los Angeles County Supervisor Michael Antonovich, says Serrano has been a fixture at county meetings for a couple years, giving long, rambling religious statements predicting earthquakes and the apocalypse.
"He yells out his statements, which are very mistaken, odd interpretations of scriptures," Bell said. "He's been pretty close to being thrown out of our meetings. When he calls Supervisor Antonovich 'Mikey,' it's very vitriolic. He's not a pleasant guy. He talks about Jews in his diatribes and seems very anti-Semitic. I don't have the impression he's dangerous, but he has issues that could use some help.
Watch, AFTER THE JUMP…