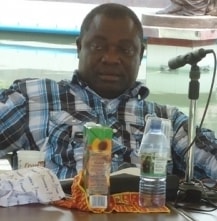 A lawyer and ex-government official in Ghana has a message for the 26 million people of his country: Homosexuality is just like genocide and should be punished accordingly. Note the ominous last line of his tirade:
"Genocide results in the extermination of the human race. And if you expand the meaning of homosexuality to mean that a man cannot have a child with another man, then it means that that practice would lead to the extermination of mankind. Therefore, if I am to charge anybody apart from having unnatural carnal knowledge, I would also charge him with genocide and see how he can get out of that situation."
But homosexuality is already illegal in Ghana. So what's Sam Pee Yalley – and let's just call him "Golden Showers" – on about?
If you read between the lines, he appears to be saying that gays should be executed or thrown in prison for life, just like American-backed evangelicals would have it in Uganda. After all, what other punishment suits the crime of genocide?
And the times may be ripe for a gay death penalty in Ghana. The fast-growing west African country (GDP expanded more than 20% this year) is in the midst of a gay panic with eerie similarities to the anti-gay Stalinism in Uganda.  
This July, a government minister called on citizens to "report homosexuals." And this week, GhanaWeb reported that the country's fledgling gay community is facing an unprecedented propaganda assault:
Since late May, it has spilled out onto the radio. Hours are spent debating whether gays should be allowed to exist here. Then Ghanaians wake up to national headlines screaming that gays and lesbians are dirty and sinful and ought to be locked up…

"Gay bashing had never been a feature of the Ghanaian social landscape until, oh, I would say the last 10-15 years. And it came with the evangelical Christians," says Nat Amartefio, 67, a historian, lifelong resident and former mayor of Accra.
Evangelical Christianity is spreading violent homophobia across Africa. And backing this movement are American evangelicals, with their Dominionist dreams of world control. The game is anti-gay colonialism. 

Last week, to take one example, the notorious Sharon Slater, head of Family Watch International and a key player in Uganda, was in Nigeria to tell a lawyers' conference that they should keep homosexuality criminalized and reject the U.N.'s "fictitious sexual rights." Her husband later boasted in an email to supporters that their Nigerian campaign is working.
SEE ALSO: Exporting U.S. Hate