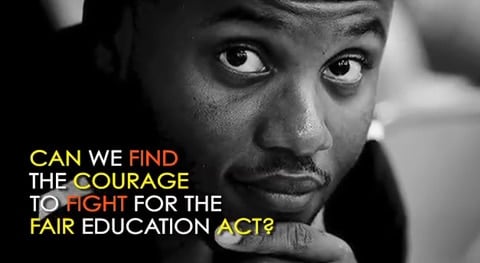 A new message from the Courage Campaign:
The same crowd who passed Prop 8 are getting desperate. Now, they want to put a question on the ballot here in California that would overrule SB48, known as the FAIR Education Act. The new law, passed by the Legislature and signed by the Governor, would require that schools include movements like the push to repeal "Don't Ask, Don't Tell" and the historical contributions of LGBT people in social science lessons. People like Bayard Rustin, Harvey Milk, Billie Jean King and Walt Whitman.
We've already seen our opponents use the old "turn your kids gay" scare tactic to try and collect signatures. It'll be like Prop 8 all over again if we don't keep this measure from qualifying. They need to collect over 500,000 signatures by October 12, 2011. We have a chance to stop them. Californians are tired of wasting money on ballot fights that hurt people, and we're tired of the right-wing targeting our family, friends, and community.
Video, AFTER THE JUMP…