FOX News reports that House Armed Services Chairman Rep. Buck McKeon (pictured), R-Calif., and Rep. Joe Wilson, R-S.C. have asked Secretary of Defense Leon Panetta to delay next week's final repeal of "Don't Ask, Don't Tell".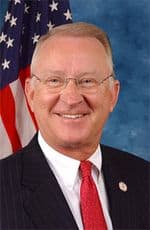 Mr. Secretary, we trust that you will see the risk of moving forward with repeal without giving service members and their leaders adequate time to study, understand and prepare themselves to implement the revised policies and regulations they will need to be successful," the letter reads.
The pair also requests that the Defense Department share with the committee the service chiefs and the views of senior military leaders in memoranda form, a request that has been denied by the Office of the Secretary of Defense in the past.
Read McKeon and Wilson's letter to Panetta, AFTER THE JUMP…
Panetta says no:
"The repeal of Don't Ask Don't Tell will occur, in accordance with the law and after a rigorous certification process, on September 20," a Pentagon spokesman said. "Senior Department of Defense officials have advised Congress of changes to regulations and policies associated with repeal. We take that obligation seriously."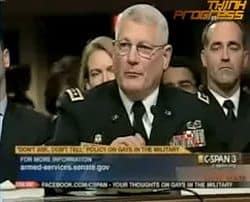 This week, General Carter Ham, who co-directed a Pentagon study on ending the ban, told the AP that lifting it would make little noise:
"My hope, my expectation, my belief is that it will be pretty inconsequential," he told The Associated Press in a brief interview. His comments echoed the prevailing view among senior U.S. military and civilian officials at the Pentagon, who think repeal will largely be taken in stride.
And:
The Army's new chief of staff, Gen. Ray Odierno, said last week that he does not expect to make any public pronouncement when repeal takes effect next week. "We're beyond that now," Odierno said. "I'm not concerned it. I think we'll be okay."
Read McKeon and Wilson's letter to Panetta, AFTER THE JUMP…
(via think progress lgbt)