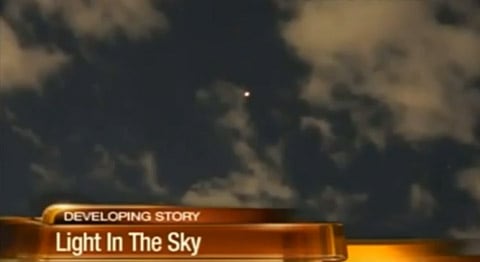 Any of our readers in the Southwest see this just before 7 pm last night?
Dozens of people reported observing a dazzling, bright light, or lights, streaking across the sky Wednesday night over Arizona and Southern California in what authorities said were likely meteor sightings.
The Maricopa County Sheriff's Office fielded more than a dozen such calls on Wednesday, and sheriff's deputies at Deer Valley Airport in north Phoenix reported a sighting themselves, an agency spokesman, Lieutenant Justin Griffin, said. The deputies described it as greenish light moving across the sky from north to south, he told Reuters…
…The Federal Aviation Administration began receiving reports from the public at about 7:30 p.m. local time, with sightings from Los Angeles and the desert resort of Palm Springs more than 100 miles to the east, as well as from Phoenix, according to an official at the FAA's Los Angeles operations office.
Then again, NASA's UARS Satellite is getting ready to crash to Earth.
Watch a news report from ABC15 in Phoenix, AFTER THE JUMP…