You may recall that back in 2009, Arizona Governor Jan Brewer eliminated state domestic partner benefits a year after they were implemented. The 9th Circuit today dealt Brewer a defeat, upholding an injunction barring enforcement of the law Brewer signed, Courthouse News Service reports: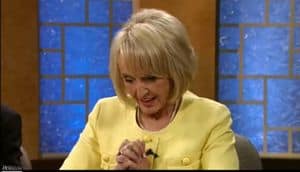 A group of nine gay and lesbian state employees sued Arizona, Gov. Jan Brewer and other officials in Phoenix, alleging violations of their rights to equal protection and due process.
The state argued that it had canceled the benefits to save money, but it failed to show how much the benefits actually cost, according to the ruling.    
U.S. District Court Judge John Sedwick enjoined the law, ruling that it was likely unconstitutional and that the plaintiffs were apt to suffer great harm if it went into effect.
The 9th Circuit affirmed unanimously, finding that the state's justification was doomed to fail even if the state explained its cost-saving theory.
The Tucson Citizen adds:
In issuing its ruling Tuesday, the appellate court ruled that denying the benefits would violate the equal protection provisions of the U.S. Constitution.
"Today's decision by the Ninth Circuit means Arizona's lesbian and gay state employees will not suddenly find themselves without vital family health coverage," said Tara Borelli, a staff attorney with Lambda Legal, a New York-based advocacy group that filed the lawsuit on behalf of seven state employees. "Our clients are simply seeking equal pay for equal work."
In February, lawyers for Arizona used cost-cutting excuses in an attempt to keep from having to pay the benefits while the 9th Circuit made its decision.