A strain of glowing green cats developed by scientists and resistant to the feline version of HIV is assisting researchers in developing gene therapy that would help humans block the disease, according to reports: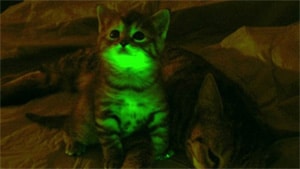 The study, published on Sunday in the journal Nature Methods, involved inserting monkey genes that block the virus into feline eggs, or oocytes, before they are fertilised. The scientists also inserted jellyfish genes that make the modified cells glow an eerie green colour – making the altered genes easy to spot.
Tests on cells taken from the cats show they are resistant to feline immunodeficiency virus, or FIV, which causes AIDS in cats.
Said Dr. Laurence Tiley of the University of Cambridge: "This technology can be applied to a wide range of species, for many of which there are clear applications and potential benefits. It will be interesting to see how enthusiastically this capability in cats is received and adopted by the HIV and neurobiological research communities and what other research opportunities it offers. A representative non-primate animal model would be a fantastic new tool for studying HIV pathogenesis."