Armie Hammer covers this month's Details. In the cover story, he talks about the upcoming Clint Eastwood film J Edgar, co-starring Leonardo DiCaprio: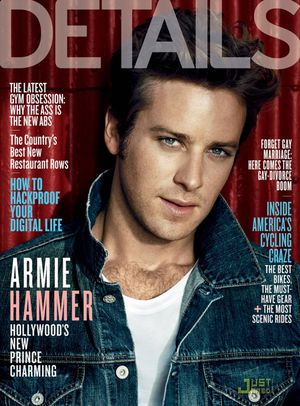 Ironically, the younger Armand Hammer is cast in J. Edgar as Clyde Tolson, Hoover's right-hand man, confidant of five decades, and lover. The movie is no Brokeback Mountain on the Potomac, but it does deal with a complicated and high-stakes attraction between two men charged with keeping secrets for a living. When he was initially offered the part, Hammer balked. "It wasn't the gay aspect I had a hard time with," he says. "When I first read the script, it didn't make sense why Clyde would stay around—because 99 percent of the time he's just taking abuse. But then it was explained to me: When you get that little glimmer of hope—like Tolson did—that simple kiss on the forehead, it all seems worth it and you stay.
"Tolson was the only man who treated Hoover like a human," Hammer says, finishing off his cigar. "They had lunch together every day and dinner together every night. Without exception, never missed it."
In Eastwood's estimation, Hammer delivers "a sleeper performance" worthy of attention and acclaim." Armie's like a throwback to that era," he says. "When Hoover started the bureau, he was 22. At 22, I don't think I knew anything. But Armie's more like those guys, with that ambition and maturity. He's very young but already a full-blown man."
He also plays Prince Charming in an upcoming Snow White adaptation. In addition to saving Snow White, he also saved his chest hair:
Four stuntmen are strapped into them, doing front flips, side flips, and 720-degree spins. "These guys can run as fast as horses," says Hammer, taking off his shirt and revealing a tuft of chest hair he recently had to fight to keep. "Julia had a line about how smooth my chest is," he says, "and it's not. So the producers were like, 'Okay, just shave him.' And I was like, 'WHOA. I spent 25 years earning this chest hair. I'm wearing purple tights and a codpiece, so, please, let me keep my manhood.'"
Watch a behind-the-scenes video of Hammer's cover shoot, AFTER THE JUMP…
(cover image via just jared)