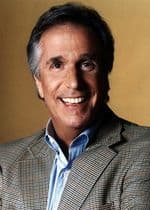 On Sirius radio recently, actor Henry Winkler – Fonz from Happy Days – said he adores Lady Gaga and thinks Marcus Bachmann is trying to refurbish the souls of gay people:
Winkler – an avowed Lady Gaga fan who admits he's in awe of her flamboyant footwear and that he really wants the pop diva's John Hancock – also called out Marcus and Michele Bachmann's so-called reparative therapy, saying, "Marcus Bachmann is trying to refurbish [gays] like sofas!"
Or replace them like old curtains. Or straighten them out like couch pillows. The interior decorating metaphors go on and on, and they seem somehow appropriate when we're talking about Marcus.