Gautam Raghavan, currently  deputy White House liaison at the Department of Defense, is to be named new White House LGBT liaison, Chris Geidner at MetroWeekly reports: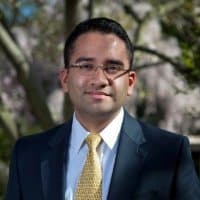 Raghavan was one of the Pentagon officials who managed the "Don't Ask, Don't Tell" repeal process, according to multiple LGBT advocates involved in repeal, a process that resulted in the end of the 1993 law on Sept. 20.
Winnie Stachelberg, the senior vice president for external affairs at the Center for American Progress praised Raghavan's work on repeal, saying, "He was the point person in the Pentagon for many of us, and was able to juggle a number of competing constituencies … in an unbelievably competent manner and I think the results speak for themselves."
Brian Bond, former deputy director of the OPE, filled the LGBT liaison role during Obama's first two years in office, but left to work for the Democratic National Committee.
Geidner adds: "According to a biography of Raghavan, who advocates say is gay, he previously worked for the Democratic National Committee as the Midwest finance director and director of the Indo-American Leadership Council. In this position, he coordinated the DNC's major donor fundraising across the Midwest as well as within the Indian-American and South Asian-American communities nationally."