The U.S. Census Bureau has released its first-ever estimated count of same-sex couples in the U.S.: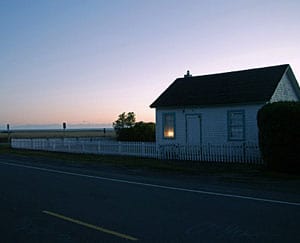 The U.S. Census Bureau released today new statistics on same-sex married couple and unmarried partner households. According to revised estimates from the 2010 Census, there were 131,729 same-sex married couple households and 514,735 same-sex unmarried partner households in the United States.
The results of the 2010 Census revised estimates are closer to the results of the 2010 American Community Survey (ACS) for same-sex married and unmarried partners. The 2010 ACS estimated same-sex married couples at 152,335 and same-sex unmarried partners at 440,989.
The new, preferred figures revise earlier estimates of same-sex unmarried partners released this summer from the 2010 Census Summary File 1 because Census Bureau staff discovered an inconsistency in the responses in the 2010 Census summary file statistics that artificially inflated the number of same-sex couples.  In addition, a breakdown of couples who reported as same-sex spouses is now available. The summary file counts originally showed that there were 349,377 married couple households and 552,620 same-sex unmarried partner households.
Statistics on same-sex couple households are derived from two questions on the census and ACS questionnaire: relationship to householder and the sex of each person. When data were captured for these two questions on the 2010 Census door-to-door form, the wrong box may have been checked for the sex of a small percentage of opposite-sex spouses and unmarried partners. Because the population of opposite-sex married couples is large and the population of same-sex married couples in particular is small, an error of this type artificially inflates the number of same-sex married partners.
After discovering the inconsistency, Census Bureau staff developed another set of estimates to provide a more accurate way to measure same-sex couple households. The revised figures were developed by using an index of names to re-estimate the number of same-sex married and unmarried partners by the sex commonly associated with the person's first name.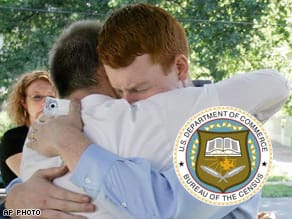 The Bureau adds: "The 2010 Census preferred estimates have been peer-reviewed by Gary Gates, a demographer with the UCLA School of Law's Williams Institute on Sexual Orientation Law and Public Policy, by Philip Cohen, a professor of sociology at the University of North Carolina at Chapel Hill, and by Megan Sweeney, professor of sociology at UCLA. These experts concluded the methodology behind these revised estimates was sound."
According to a separate release from the Williams Institute:
The Williams Institute conducted a survey of same-sex couples immediately after Census 2010 showing that most same-sex couples who described themselves as spouses are in legally recognized relationships, but not all are actually married. The analyses suggest that approximately 70% reported that they were legally married, and another 15% said that they were in civil unions or registered domestic partnerships. The remaining 15% indicated that while they were not actually in a legally recognized relationship, they considered themselves to be spouses.
Same-sex couples can marry in six states and the District of Columbia. Thirteen states offer non-marital forms of relationship recognition like civil unions or registered domestic partnership.
The Williams Institute estimates that about 50,000 same-sex couples have married in the following states, and in the following numbers: Massachusetts (2004-2009) 16,129; California (2008) 18,000; Connecticut (2008-2010) 6,752; Iowa (2009-2010) 2,099; Vermont (2009-2010) 1,425; New Hampshire (2010) 1,805; District of Columbia (2010) 3,500. Data on marriages in New York are not yet available. In addition, as many as 30,000 same-sex couples may have been married outside of the US. The Williams Institute also estimates that approximately 100,000 same-sex couples are in non-marital forms of relationship recognition like civil unions and registered domestic partnerships.