UPDATED BELOW w NEW SOUTHWEST STATEMENT
Yesterday I posted about musician and L Word actress Leisha Haley being escorted off of Southwest Airlines for kissing her 'Uh Huh Her' bandmate and girlfriend Camila Grey. Hailey and Grey have now released a formal statement saying they were told Southwest was a "family airline" when they were escorted off for "one, modest kiss". They say they will be filing a formal complaint.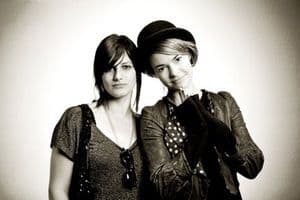 Hailey and Grey's statement:
We have always promoted tolerance, openness and equality both as a band and as individuals. We both come from loving homes where our parents not only love and accept us, but are also proud of who we are. We believe everyone has the right to live openly in this society as equals. In no way were our actions on Southwest Airlines excessive, inappropriate or vulgar. We want to make it clear we were not making out or creating any kind of spectacle of ourselves, it was one, modest kiss. We are responsible adult women who walk through the world with dignity. We were simply being affectionate like any normal couple. We were on the airplane less than 5 minutes when all was said and done. We take full responsibility for getting verbally upset with the flight attendant after being told it was a "family airline." We were never told the reason the flight attendant approached us, we were only scolded that we "needed to be aware that Southwest Airlines was a family oriented airline."
No matter how quietly homophobia is whispered, it doesn't make it any less loud. You can't whisper hate. We ask this airline to teach their employees to not discriminate against any couple, ever, regardless of their own beliefs. We want to live in a society where if your loved one leans over to give you an innocent kiss on an airplane it's not labeled as "excessive or not family oriented" by a corporation and it's employees. We find it very disturbing that the same airline who lauds itself as being LGBT friendly has twisted an upsetting incident that happened into our behavior being "too excessive." The above is not an apology and we are in the process of filing a formal complaint with the airline. We hope that when all is said and done a greater tolerance without prejudice will evolve.
Southwest released this statement yesterday:
Initial reports indicate that we received several passenger complaints characterizing the behavior as excessive. Our crew, responsible for the comfort of all Customers on board, approached the passengers based solely on behavior and not gender. The conversation escalated to a level that was better resolved on the ground, as opposed to in flight. We regret any circumstance where a passenger does not have a positive experience on Southwest and we are ready to work directly with the passengers involved to offer our heartfelt apologies for falling short of their expectations.
UPDATE: Southwest released a new statement late today, following the release of Hailey's statement:
Additional reports from our Employees and Customers onboard flight 2274 during a stop in El Paso on Sunday now confirm profane language was being used loudly by two passengers.  At least one family who was offended by the loud profanity moved to another area of the cabin.  Although we have reports of what Customers characterize as an excessive public display of affection, ultimately their aggressive reaction led to their removal from the aircraft.  We do not tolerate discrimination against anyone for any reason.  In this situation, their removal was directly and solely related to the escalated conversation that developed onboard the aircraft.
Our tenets of inclusion and celebration of diversity among our Customers and Employees-including those in the LGBT communities-anchor our Culture of mutual respect and following the Golden Rule.   The more than 100 million people who fly Southwest each year reflect the great diversity of our country and our Company – and ALL are valued and welcome.  In fact, we've been recognized as a leader in diversity throughout our 40 years of service.
Our Customer Advocacy Team reached out to extend goodwill and a full refund for an experience that fell short of the passengers' expectation.
You may have missed…
'L Word' Actress Leisha Hailey Says Southwest Kicked Her Off Plane for Kissing Girlfriend [tr]