Guess coming out of the closet in the world of professional basketball doesn't hurt your chances of being reemployed.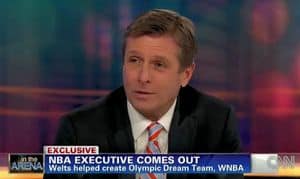 Four months after becoming the first senior sports executive to announce that he's gay and less than a month after stepping down as president and chief executive of the Phoenix Suns, Rick Welts has been hired as President and COO of the Golden State Warriors, ESPN reports:
The team planned to introduce Welts on Tuesday at the team's practice facility. He replaces Robert Rowell, who resigned in June as the club's top executive for business operations.
After quitting the Phoenix Suns, Welts said he hoped to get a job in Northern California. Looks like that worked out well.