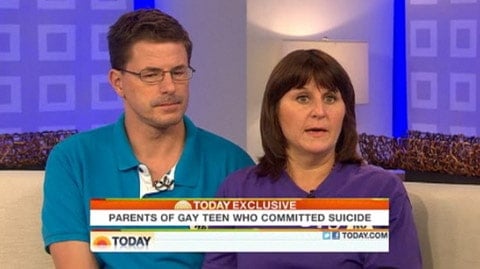 The mother of gay teen Jamey Rodemeyer, who committed suicide recently after years of bullying, says that the jeering from some of his anti-gay schoolmates has continued after his death:
At a homecoming dance she attended shortly after her brother's death, a potentially poignant moment turned ugly after a song by Lady Gaga, Jamey's favorite artist, who recently dedicated a song at a concert in his memory.
"She was having a great time, and all of a sudden a Lady Gaga song came on, and they all started chanting for Jamey, all of his friends,'' Jamey's mother, Tracy, told Curry. "Then the bullies that put him into this situation started chanting, 'You're better off dead!' and 'We're glad you're dead!' and things like that.
"My daughter came home all upset. It was supposed to be a time for her to grieve and have fun with her friends, and it turned into bullying even after he's gone.''
Watch, AFTER THE JUMP…
Visit msnbc.com for breaking news, world news, and news about the economy