Britain's three main political parties are backing a new international LGBT rights group, The Kaleidoscope Trust, whose goal is to combat homophobia worldwide, Pink Paper reports:

It is the UK's latest human rights body and will officially launch tomorrow, 13 September. The occasion will be marked by a reception at the House of Commons hosted by the Speaker, John Bercow MP, Kaleidoscope's Honorary President.  In anticipation, Prime Minister David Cameron, Labour leader Ed Miliband and Deputy Prime Minister Nick Clegg have all lent their support.
Elton John and George Michael are also backing the group:
"Top UK music stars Elton John and George Michael have been invited to attend the official launch in the House of Commons of Kaleidoscope, which aims to get 19th-century British colonial anti-gay laws revoked in the Commonwealth and beyond, using business and political pressure. It comes after campaigners grew increasingly concerned at how homosexual persecution is being actively encouraged by some Commonwealth states – particularly in Africa."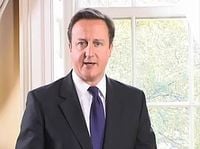 British Prime Minister David Cameron praised the new effort:
"Our country has made real progress on LGB&T equality and, without forgetting how far we've still got to go domestically, it is right that we should now increasingly turn our attention towards bringing about change abroad.
"In some countries, it's simply appalling how people can be treated – how their rights are trampled on and the prejudices, and even violence, they suffer. So I want Britain to be a global beacon for reform. That's why I am delighted to send my best wishes to Kaleidoscope, and wish them well in their work.
 
"Be in no doubt, this is a hugely important issue to this Government. Last March, we published an update on our plan on LGB&T issues. It included fourteen areas where we want to act internationally, covering issues like asylum and protecting the rights of British citizens living, working or travelling abroad. We look forward to the contribution that Kaleidoscope will make to the debate on and progress towards equality worldwide."
The group's website can be found here.