The California Supreme Court is set to hear arguments tomorrow related to the federal case challenging Proposition 8. The hearing will focus on whether the backers of the ballot measure have standing to appeal last year's decision overturning the measure,  the L.A. Times reports: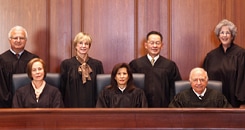 The court's ruling, due 90 days after argument, will determine whether all initiative sponsors in California are legally entitled to defend their measures in state court when the governor and the attorney general refuse.
If the court rules against the initiative backers, then a federal appeals court is more likely to rule that ProtectMarriage.com, the sponsor of Proposition 8, also lacks standing under federal law and "Proposition 8 dies because no one will defend it," said Vikram Amar, UC Davis constitutional law professor.
Supporters of marriage equality are planning a "No Standing for Prop 8" sit-in tomorrow at the Court, prior to the hearing, the San Diego Gay & Lesbian News reports: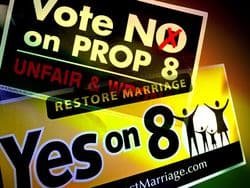 Same-sex couples and their friends and families will hold a "No Standing for Prop 8" sit-in on the steps of the California State Building at 8 am Tuesday, Sept. 6.
The sit-in will precede the California Supreme Court's hearing on the standing issue in the Proposition 8 appeals case, which is set to begin at 10 am. The Earl Warren State Building is located at 350 McAllister St. in San Francisco, CA 94102…
…"You can't keep litigating a lawsuit just because you don't like something – you actually have to be harmed in some way. The simple fact of the matter is that the freedom to marry brings enormous benefit to same-sex couples while harming no one else's marriage. Accordingly, those who oppose equality have no standing to continue the suit," said John Lewis, Marriage Equality USA's Legal Director.