Senator Barbara Mikulski (D-MD), who was the subject of a campaign by LGBT groups in August to get her to support repeal of the Defense of Marriage Act, has announced via Twitter that she will do so. Mikulski received a petition with more than 3,000 signatures from Maryland residents as part of the campaign.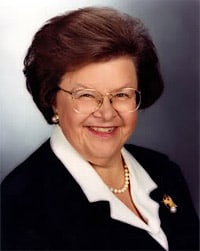 Wrote Mikulski: "Will co-sponsor bill 2 repeal #DOMA – All Americans entitled 2 equal protection under law & 2 be treated w/dignity & respect. #ItGetsBetter"
In a statement provided to the Washington Blade via e-mail, Mikulski confirmed she's a co-sponsor of the legislation.
"I am proud to co-sponsor legislation to repeal key provisions of the Defense of Marriage Act," Mikulski said. "I believe all Americans are entitled to equal protection under the law and all of our citizens deserve to be treated with dignity and respect."
She continued, "The Respect for Marriage Act, S.598, will allow couples who have a legal marriage in a state to have the same federal protections as every other married couple. This includes the right to receive spousal benefits under Social Security; to file joint federal tax returns and to take leave under the Family and Medical Leave Act when a spouse falls seriously ill."
Thirty Senators now co-sponsor the Respect for Marriage Act.