Earlier today I posted about the imminent release of the Back to the Future Marty McFly Air Mag. It has now been introduced at Universal Studios.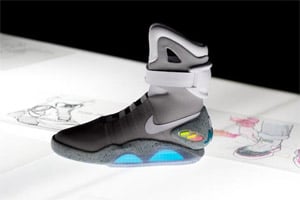 Just 1500 pairs will be produced. They're all being auctioned on eBay starting tonight through September 18, and all proceeds will go to the Michael J. Fox Parkinsons Foundation.
Leading up to the release of the Nike Air Mag, a 50 million match grant was given to the Michael J. Fox Foundation by Sergey Brin and Anne Wojcicki; they will match all donations to the foundation, up to 50 million dollars, through the end of 2012.
"We wanted to translate the excitement people have for the 'greatest shoe never made' and for the Back to the Future into positive action," said Mark Parker, CEO of Nike. "But the long term objective is to raise awareness so the Foundation can achieve their goal of eradicating Parkinson's disease.
Watch Nike's video featuring the shoe, AFTER THE JUMP…