Casting additions to the Broadway staged reading of '8', Dustin Lance Black's dramatization of the Prop 8 trial, have been added to and confirmed by the American Foundation for Equal Rights: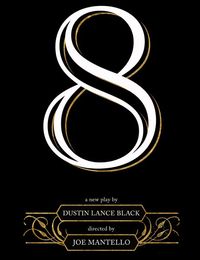 Academy, Tony and four-time Emmy Award nominee Bob Balaban; acclaimed "White Collar" television star Matt Bomer; Emmy Award-winning journalist Campbell Brown; celebrated playwright and gay rights activist Larry Kramer; two-time Academy Award-nominated, multiple Emmy and Golden Globe Award-winning, two-time Tony Award-winning actor John Lithgow; Tony Award nominee and Broadway Impact Co-Founder Rory O'Malley; and Emmy Award winner and three-time Golden Globe Award nominee Bradley Whitford will appear in the world premiere of "8" on Broadway, joining the previously announced Anthony Edwards, Morgan Freeman, Cheyenne Jackson, Christine Lahti, Rob Reiner, Yeardley Smith and Marisa Tomei. The production is an unprecedented account of the Federal District Court trial in Perry v. Schwarzenegger (now Perry v. Brown), the case filed by AFER to overturn Proposition 8, which eliminated the right to marry for gay and lesbian couples in California.
What a cast!
It's a one-night-only event on September 19 at the Eugene O'Neill Theatre. Link to ticket info here.