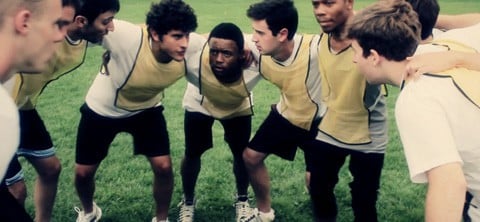 A PSA meant to combat anti-gay behavior will premiere tomorrow at the University of Michigan stadium, the largest in the nation, with more than 110,000 fans in attendance during the Michigan/San Diego State football game.
The PSA, called "Huddle Up", features a football team reacting to one of its members yelling "let's beat those queers!"
It's part of the University's marking of the 40th anniversary of The Spectrum Center—the first organization directed at LGBT students by any university. Their celebration continues through November with a series of events on campus and the PSA airs again November 19 during the Michigan/Nebraska football game.
Watch it, AFTER THE JUMP…
The Spectrum Center: "Huddle Up" from Filmic Productions on Vimeo.