A Newark, NJ man has been charged with harassment, bias intimidation and criminal mischief for harassing his neighbors for several months, NBC New York reports: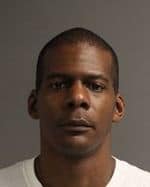 Douglas Brown, 36, began by harassing his now former neighbors, a gay couple, in May, according to the Essex County prosecutor's office. Brown began chanting slurs at them and putting oil on their home, but gradually escalated to destroying their property, including slashing their tires, said the prosecutor's office.
Brown and his alleged victims were living in the Ironbound section of Newark.
Brown's bail has been set at $25,000.