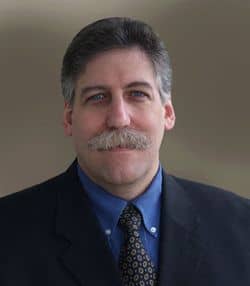 If you haven't taken your blood-pressure medication this morning, you might want to stop reading here. 
In a benighted screed for the American Family News Network, Jews-for-Jesus preacher Michael L. Brown (pictured right sporting the obligatory '70s swinger-stache) blames everything from "gay activism" to anti-discrimination laws to the dead victim himself for the murder of Larry King – the 15-year-old gay boy executed before his classmates by budding neo-Nazi Brandon McInerney. 
What does all this have to do with gay activism? And how can I claim that gay activists are complicit in Larry's death? To start, there are plenty of unstable children in our schools today, just like Larry and Brandon, yet gay activists are encouraging kids to come out at young and younger ages. This is downright irresponsible.
 
After all, it is gay activists who constantly remind us that LGBT kids are bullied and even beaten up at school. They tell us how dangerous the school environment is for kids who identify as LGBT, and yet at the same time, they praise kids like Larry for coming out at 10. They even want more Gay Straight Alliances in our middle schools, where pre-teens can declare their gay identity to their peers and faculty advisors without their parents' knowledge. Why? So they can become targets of hatred and potential violence? If our schools really are so "homophobic" and dangerous, why not encourage these kids to keep their sexual orientation to themselves until they're in a safer environment?
Yeah, gay activists! Why are you encouraging LGBT kids to be themselves in school, when (people like me actively work to ensure that) schools are hostile places for LGBT kids? 
Go take that blood pressure medication now! It's about to get worse.
Keep reading AFTER THE JUMP…
You see, it's not just gay activists who set the stage for Larry King's summary execution. Larry King is responsible for his own death for "flirting" with his soon-to-be murderer. How else do you expect a straight guy to react to being crushed on by a dress-wearing gay boy, except by shooting him in the head? Here, Brown echoes McInerney's own asinine legal defense. And then there's the school's openly lesbian assistant-principal. Why, we ought to just lock her up as an accessory to murder, along with anyone else who didn't force King to change his sexual orientation in "therapy":
Some of the teachers in Larry's school, along with his adoptive father, specifically accused former assistant principal Joy Epstein, an open lesbian, of encouraging Larry's flamboyant behavior in order to promote her "agenda." If there is any truth to this, it is not just irresponsible, it is reprehensible. (At the least, there is no indication that she discouraged his pushy, sexual behavior.) How could an experienced educator act in such a way, especially with a boy who had such a troubled history? And is it possible that Larry could have benefited from ongoing counseling about his sexuality? Yet gay activists adamantly oppose any form of counseling that does not affirm homosexuality.

What about the other administrators? Why didn't they prevent Larry from dressing up like a girl when teachers reported to them that it was causing disruption among the students? The official school answer is that California law, passed at the urging of gay activists, prevents discrimination based on gender identity or expression, and so Larry was able to come to school wearing women's accessories and makeup. Was it fair to push this on Larry's classmates, themselves young teenagers sorting through their own issues of sexual identity? Was it fair to Larry?
"Was it fair to Larry?" What a question. Brown has just spent several hundred words explaining why gay activists, anti-discrimination laws and King's own behavior are causes of his murder, and now Brown has the audacity to feign mawkish concern for the victim. This guy gives troglodytes a bad name. 
The obvious point is this: Brown, and not anyone or anything he blames in his article, is indirectly complicit in the murder of Larry King for contributing to this society's toxic homophobia and, now, for defending it. 
Also, please note: there's a comment field on Brown's article. 
UPDATE: As others have noted, Brown is not really Jewish because he's part of the nutty Jews-for-Jesus contingent. Thanks to Ari Waldman, Towleroad's law writer, for pointing that out.