Today is an important day. One day after Judge James Ware of the Northern District of California ordered the release of the Perry trial videotapes, the odious discriminatory policy known as "Don't Ask, Don't Tell" (DADT) finally dies. The two developments are related in that they mark important victories for the gay community: those of us who serve our country in silence no longer have to lie about who we are, and the release of the Prop 8 videos will help show the public how empty and hateful the opponents of same-sex marriage can be.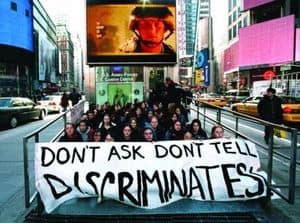 But, it's worth noting the differences. Despite the successful, yet ongoing facial challenge to DADT organized by the Log Cabin Republicans and litigated by White & Case LLP partner Dan Woods, DADT is dying due to legislative action taken by majority Democrats at the end of the last Congress. Perry v. Brown, on the other hand, is a federal court challenge to California's ban on same-sex marriage, enacted through the state's unique referendum system. Some activists in the gay rights movement are not sure either is the right process. Many think that it would have been better for DADT to be buried under Judge Virginia Phillips's world-wide injunction and declaration of unconstitutionality, and many think that the issue of same-sex marriage should be put back in front of the voters in 2012.
What are the merits or disadvantages of legislative versus judicial action in the gay rights movement?
CONTINUED, AFTER THE JUMP…
As I have written before, the most effective strategy in the search for civil rights is almost always a dual strategy in legislatures and in the courts. Progress in one influences progress in others, as Log Cabin Republicans v. United States likely did with the legislative repeal of DADT. But, we might be at a different stage today had we not taken the path we did.
The DADT Repeal Act is a great thing, but it leaves certain questions unanswered. And despite Dan Woods's almost constant attempts to score cheap political points against President Obama in his comments to the media, his litigation could accomplish much. As Lambda Legal's Jon Davidson noted yesterday in The Huffington Post, "[n]o sexual orientation anti-discrimination protections have been adopted into law by Congress, an executive order or military regulations. The same-sex partners and spouses of lesbian, gay, and bisexual service members and veterans largely continue to be denied rights and benefits provided to heterosexual service members' spouses."
What's more, we can probably expect future litigation from those who were discharged under less than honorable circumstances under DADT — dishonorable and bad conduct discharges are not only stains on veterans' records, but are also barriers to future employment. Many who were discharged lost benefits and pensions and there remain questions as to the ability of less than honorable discharges to rejoin the service. A broad decision from the Ninth Circuit could have addressed these issues.
Perhaps more importantly, a decision from the Ninth Circuit could have added precedent on the standard by which federal courts will review state action that discriminates on the basis of sexual orientation. Thanks to President Obama, it is the federal government's policy that intermediate scrutiny is the proper standard, but enshrining that view in an appellate court decision may have more lasting impact on the future success of gay rights litigation.
And, yet, legislative repeal has certain advantages. It protects repeal from the tired canard that a few unelected "activist" judges overturned the will of the people and it makes clear that Congress made particular findings that being gay is irrelevant to our ability to serve our country honorably.
A similar back-and-forth has been simmering in the same-sex marriage context. While the Perry litigation is winding its way through the courts — delayed and detoured by a question certification to the California Supreme Court, a claim that the district court judge was biased, and a motion to release the trial videotapes — some activists want to bring the issue back to California voters in 2012. They say that majorities now favor same-sex marriage and that the Prop 8 case may get to the Supreme Court too early — before intermediate scrutiny gains a foothold at the appellate level and before the membership of the court changes.
I share none of these concerns. Another round at the ballot box allows anti-gay forces to raise the same scare tactics and outright lies that helped them win in 2008, something that the truth-seeking trial process does not allow. Winning at the ballot box could moot Perry, which itself offers a great opportunity to clarify the sexual orientation standard of review. And, Perry is well-funded and well-litigated and well-managed, headed by capable advocates at the American Foundation for Equal Rights and the litigation team of Ted Olson and David Boies.
What do you think? Is one method — legislative versus judicial — that is better than the other?
***
Ari Ezra Waldman is a 2002 graduate of Harvard College and a 2005 graduate of Harvard Law School. After practicing in New York for five years and clerking at a federal appellate court in Washington, D.C., Ari is now on the faculty at California Western School of Law in San Diego, California. His research focuses on gay rights and the First Amendment. Ari will be writing weekly posts on law and various LGBT issues.
Follow Ari on Twitter at @ariezrawaldman.