"JD Smith", the up-till-today anonymous co-founder of Outserve, the organization of actively serving LGBT servicemembers, has come out of the closet. The group's new issue of their magazine, which will be serviced to military bases internationally, profiles 101 gay and lesbian service members.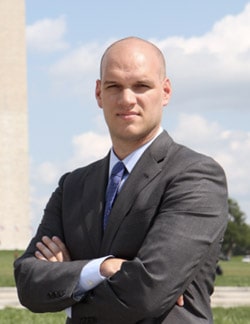 Says "Smith", now Josh Seefried, in an email received by Towleroad:
Friends,
My name is Josh Seefried and I am a finance officer in the United States Air Force currently stationed in New Jersey. I am a First Lieutenant and I graduated from the United States Air Force Academy in 2009 with a B.S. in Economics.  I grew up in Longmont, Colorado.
I personally felt it was important to come out of the closet on Day 1 to show that sexual orientation in the military will truly be a nonissue. Overseas we have seen that some militaries still do not have people that feel comfortable coming out with their sexual orientation, even years after the policy has changed.  I hope that by coming out, along with the other military members who chose to come out publicly in the pages of our magazine, help to show our military was ready for this change.
I feel privileged and honored to serve during this time in our nation's history. This change in policy has not only made our military stronger, but America stronger. I'm proud to serve in the United States Air Force and proud of the fact gay servicemembers can now do their job with their integrity intact.
Josh Seefried, aka jd smith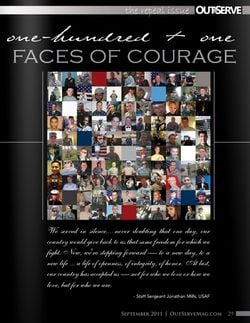 The AP adds:
Although he expects only a fraction of the 65,000 gay men and lesbians estimated to be serving in the armed forces to reveal themselves at first, Seefried will not be alone. On Tuesday, his organization's magazine will publish an issue featuring photographs and biographies of him and 100 other gay service members. It will be available online and at Army and Air Force commissaries.
OutServe, which has grown to 4,300 members in more than 40 chapters from Alaska to Iraq, has had an exceptionally aggressive rise since its February 2010 launch. From the start, Seefried and a tech-savvy civilian friend, Ty Walrod, saw its mission as two-fold: to ease the isolation of gay service members and to educate the public about the price of requiring them to serve in silence.
You can download the latest issue of Outserve, featuring the 101 faaces of courage, on the group's website.
They write, of the issue: "The following 101 photos represent the approximately 70,000 currently serving LGBT military personnel. We serve in every country, in every conflict, and in every career field. We serve because we are committed to our country. We serve to protect those we love. We serve because we are dedicated to this self-evident truth — that all men are created equal."
Said Seefried: "We could not be more proud of this magazine and the opportunity it gives us to educate and inform all service members – gay and straight – about who we really are. There is so much misinformation out there about the LGBT community and as we begin a new day for the American military, OutServe Magazine will be a vehicle to tell our stories and a way of helping all of us understand each other better. As of today, we can speak up for ourselves honestly, so the troops on either side of us can understand, we have more in common than you might imagine."