Indianapolis has never had an openly gay candidate run for its City Council. Now it has three, the Indy Star reports: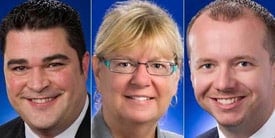 "The historical significance of it is the fact that it doesn't matter," said Todd Woodmansee, an attorney who's running in District 21 on the Eastside against Republican Councilman Ben Hunter. "We can have people running regardless of what their sexual orientation is, regardless of what their race is and regardless of what their religion is. "It's a really welcome sign that Indianapolis is an inclusive city."
At-large candidate Zach Adamson, the owner of a Downtown hair salon, put it differently: "There aren't a lot of gay potholes. We don't have gay or lesbian parking meters. I'm focusing on the issues that are impacting people on a daily basis."…
Adamson, 40, is running countywide for one of four seats — giving him about as good a shot as three other at-large Democrats. But Woodmansee, 38, and attorney Jackie Leigh Butler, 55, who's running in District 5 on the Northeastside, face Republican incumbents.
Indianapolis election includes 3 gay council candidates [indy star]