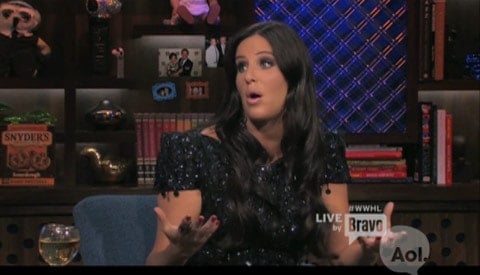 Viewers on social networks began calling for the cancellation of Millionaire Matchmaker Patti Stanger's show following remarks on the premiere of Andy Cohen's Watch What Happens Live last night.
After telling one caller who asks her about monogamy that "in the gay world, it will always be open" and "there is no curbing the gay man," Stanger tells Cohen "I have tried to curb you people."
When Cohen objects, she says, "When was the last time you had a boyfriend?…You know this. You're gay."
Stanger expressed the same sentiment in 2009 on her show.
Another gay caller received this compliment from Stanger: "First of all, you're very handsome, I thought you were straight…because [you're] not queeny."
Jewish men were also targeted by Stanger: "They lie." "So I'm a non-monogamous liar," Cohen responded, half in jest.
Watch, AFTER THE JUMP…
Longer video over at Gawker.