The case against Brandon McInerney, who shot and killed a 15-year-old gay fellow student named Larry King execution-style before an entire classroom, is not over. A judge declared a mistrial this week after a jury couldn't agree on the degree of murder charges to find against McInerney. But now prosecutors are pushing for a new trial.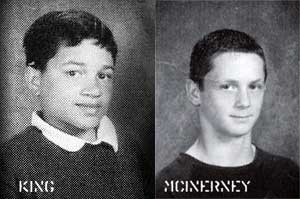 The LA Times, however, reports that McInerney could still get away scot-free. A new trial, if it happens at all, is going to be hard to win: 
"These are extremely difficult cases," said Michael Bradbury, the longtime district attorney in Ventura County.

"The public may see a straightforward murder case, but this case is far more complex, firstly, because of the age of the defendant at the time of the act and, secondly, the manner in which he was raised by his parents, which was clearly dysfunctional and by all accounts horrific," Bradbury said.
The prosecutors' may have made a mistake by trying to get McInerney convicted as an adult. One of the defense attorneys said they had "overreached." It seems that's part of a pattern: 
The district attorney's office was criticized in a report last month released by the Center on Juvenile and Criminal Justice that showed cases involving youths under the age of 15 are nearly 14 times more likely to be tried in adult court than anywhere else in California.
Now, prosecutors will decide whether to try him as an adult again.