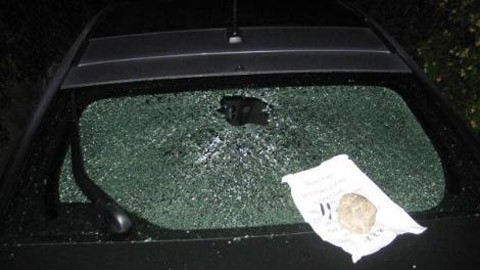 (image king5)
A gay West Seattle couple were targeted in an anti-gay hate crime over the weekend, KING5 reports. Lyle Evans and Chris Ilovar woke on Friday after hearing a noise outside their home. What they found was that windows on both of their cars had been smashed. One car was in their driveway, one was in the street. Attached to one of the rocks was a hateful note, signed KKK.
West Seattle Blog received a report from the couple. Here's part of it:
Within a few minutes of the call, the Seattle Police department arrived. Officer N. Nguyen and his partner were the first to arrive. We then noticed that all 4 tires of each vehicle had been slashed. When one of the officers found the rock in my partner's car, it was surrounded by a typed hate note. It read as follows…
God Hates F*gs!
Get the f**k out of our neighborhood.
The bible says God forbids men committing indecent act with other men.
Pack up your sh*t and get you gay sh*t out.
– KKK
Upon notice of this note, both the Sergeant and Lieutenant were notified and arrived on the scene. Another police officer arrived to take pictures and gather the evidence of the rocks and note. One of the police officers told us that they take these crimes "very seriously" and we were thankful for their presence that evening.
A neighbor reports seeing two white men in the alley behind the house about the same time but it was too dark to get a good description.
"Just the ignorance of people still amazes me and the hatred that people have for other people is really amazing to me and it's something that's unsettling," Ilovar says.
So while police investigate Ilovar and Evans plan to move on with their lives unafraid and because of the incident closer to their neighbors than ever before.
"If the intent was to destroy or to oppress that's not really working.  It's having the opposite effect.  So, it's making everyone in the community really rise up and come together and be positive and be open and vigilant around what's happening in our neighborhood," Evans says.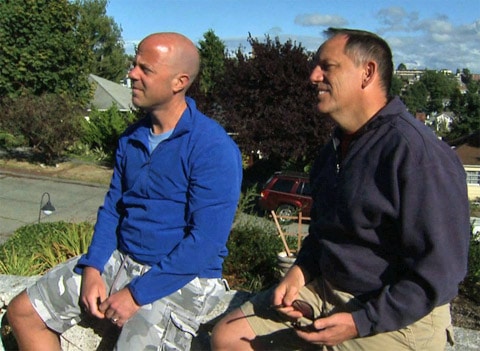 (image kcpq)