On Thursday, I posted about Union Township, New Jersey teacher Viki Knox and a controversy that had erupted over Facebook remarks she made calling homosexuality a "perverted sin" that "breeds like cancer" and attacking a school display recognizing Lesbian Gay Bisexual and Transgender History Month.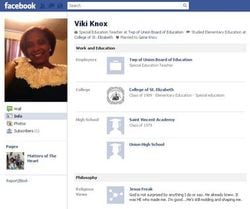 This Tuesday, Garden State Equality is sponsoring a rally and protest at Union High School at 6:30 pm:
Garden State Equality will protest this Tuesday, October 18 at 6:30 pm at the next meeting of the Union Township School Board. It's your chance to tell the school board to take action against the Union High School teacher over her alleged Facebook remarks that ruthlessly bash LGBT people. THIS TUESDAY at 6:30 pm, Union High School, 2350 North 3rd Street, Union Township, New Jersey. The school board meeting starts at 7:00 pm, but please arrive no later than 6:30 pm for our news conference and then to get seats. PLEASE SHARE THIS POST ON YOUR FACEBOOK PAGE AND FORWARD IT TO YOUR FRIENDS' PAGES.
Wrote Knox on her Facebook page:
"Homosexuality is a perverted spirit that has existed from the beginning of creation. The word of God refers to it often. That's if you believe the Word to be truly God's intended blueprint for his people. I have friends and loved ones who are practicing/ living as homosexuals. Yes I love can care about them. We hug and exchange gifts. We have family dinners. But how they live and their actions, behaviors -CHOICES are against the nature and character of God! Do I tell me so? Yes, of course. Do I treat them bad? If course not! Jesus never did that to ANYONE he meant. He spoke to them of their situation and offered them life eternal. He didn't say it was okay but we've all sinned and come short if God's will for us daily. That's why we Christians true followers pray, repent, and spend time with Christ daily. The Word of God instructs us to die daily to our flesh-meaning our will. What we want; what feels good to us; what we like; what we can rationalize and justify. I do not pretend to know ALL things. Nor do I pretend not to have biases, failings and faults. But I know sin and it breeds like cancer!"
See a PDF of the page HERE.
The Star-Ledger Editorial Board wrote a scathing assessment of Knox's actions in an editorial yesterday:
She might as well have hopped on a soapbox across the street from the school and screamed her anti-gay rant into a bullhorn. Or stapled posters to telephone poles around town.
While we all should be allowed an inner circle with whom we can speak freely, Knox gave up those protections when she posted her comments on the most public forum there is — the internet. She created a fearful, hostile environment for students. That's unacceptable.
Knox has the right to a hateful view, but once her beliefs are made public, she doesn't have the right to a taxpayer-funded, $70,688-a-year job in which she is expected to treat all students equally and with respect. She should absorb the harshest action possible, suspension or firing.