Former Hawaii Governor Linda Lingle, who vetoed a civil union bill in that state in July 2010, is planning to announce a run for U.S. Senate, the Honolulu Advertiser reports: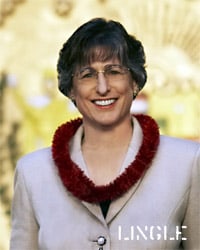 "Former Gov. Linda Lingle is expected to announce as soon as today that she will run in the Republican primary for U.S. Senate, sources say…U.S. Rep. Mazie Hirono, D-Hawaii, and former U.S. Rep. Ed Case are the Democratic contenders to replace U.S. Sen. Daniel Akaka, D-Hawaii, who is not seeking another term next year."
Lingle made herself an enemy of equality during her tenure as The Aloha State's governor.
Said Lingle at that time: "For those people who want to makes this into a civil rights issue, and of course those in favor of the bill, they see it as a civil rights issue. And I understand them drawing that conclusion. But people on the other side would point out, well, we don't allow other people to marry even — it's not a civil right for them. First cousins couldn't marry, or a brother and a sister and that sort of thing. So there are restrictions, not to put it in the exact same category. But the bottom line is, it really can't be a civil right if we are restricting it in other cases, and it's been found to be legal in those other cases, that the restrictions."
Civil unions have since been legalized in Hawaii. Governor Neil Abercrombie signed them into law in February of this year.