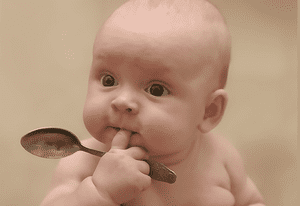 Andrea and Alisa are a lesbian couple in New South Wales, Australia. They want a baby. They don't want to adopt, and they don't want to use the genetic material of some anonymous donor. Of the search for appropriate DNA, Elisa says: "It's not like looking through a catalogue for a pair of shoes. This is a potential child."
The couple sought an appropriate sperm donor through an ad in a gay publication. They met with a few putative papas, but none clicked.
Then, according to the Sydney Morning Herald:
… the pair conceived the idea of approaching heterosexual couples and arranging an egg-for-sperm swap.

''That way both families would be in a like-for-like situation,'' Elisa said. ''We realised they would only be looking for eggs if they have already tried to conceive.

''They understand the challenges of assisted reproductive technology. A sperm-for-egg swap is what I like to call an altruistic, reciprocal gift of life.''

They placed an advertisement in the popular parenting publication Sydney's Child two months ago and have already received a few responses from couples willing to discuss the arrangement.

''There are hundreds of women out there who need eggs and all these gay women who need sperm,'' Andrea said. ''This is an ideal arrangement if you can work something out with the right people. That said, it does have lots of complications as well.''
Of course it will! But those problems do not seem to include the opprobrium of the heterosexual community. Elisa and Andrea have reportedly received some inquiries from interested straight couples already, and so far, there's been not a peep of criticism on the interwebs. Though it is nice to think that, somewhere, the Hon. David Clarke is quietly seething.