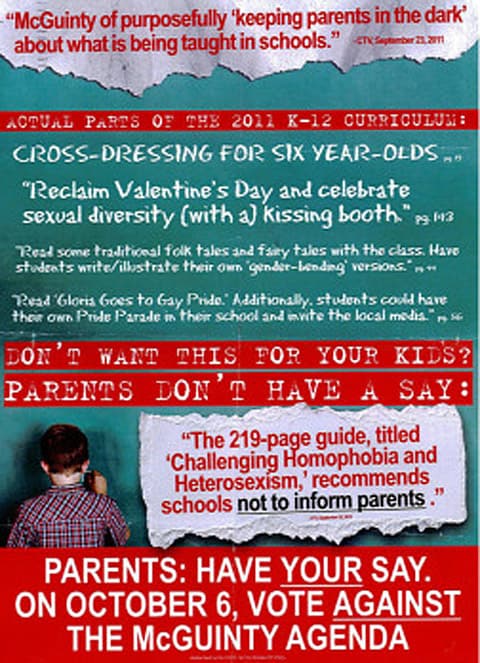 Canadian Progressive Conservative leader Tim Hudak, campaigning for Ontario's top job, is under fire for a homophobic campaign flyer that misleads voters about the education curriculum in place under Premier of Ontario Dalton McGuinty.
The Globe and Mail reports:
The Tories are quoting from a Toronto District School Board curriculum guideline that says, "Sending a school newsletter home at the beginning of each term is a best practice for keeping parents informed of all upcoming equity topics in the classroom."
Still, the PC flyer warns parents against classrooms that would introduce concepts such as "cross dressing for six year olds" and "reclaiming Valentine's Day [by celebrating] sexual diversity with a kissing booth."
The statements aren't based on what was proposed, however. The Valentine's Day example was an idea to give chocolates to students who complete a "school climate" survey. As for cross-dressing, the Liberals said "there is no such thing." The page cited in the PC flyer is a list of "Significant International" gay and lesbian individuals, including Ellen Degeneres, Rosie O'Donnell, Virginia Woolf and Harvey Milk.
Other candidates associated with the flyer are running from it, literally.