The cast of this year's Celebrity Apprentice has been announced and it includes two celebrities who have been fairly outspoken for LGBT rights in recent years, the AJC reports: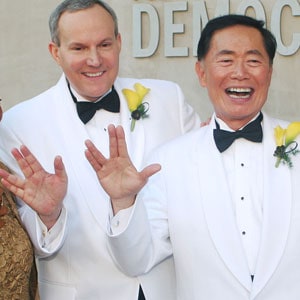 "The fifth season of "Celebrity Apprentice" features no Atlantans for the first time since 2008 but will include  its very first 'American Idol" alum: Clay Aiken, according to People magazine….But will he be able to get along with the likes of Adam Carolla (comic), Debbie Gibson (1980s pop star), Arsenio Hall (talk show host), Cheryl Tiegs (model/actress), Dee Snider (Twisted Sister), Therese Guidice (sic) ("Real Housewives of New Jersey") and George Takei ("Star Trek")? There are clearly some strong personalities there, which is what makes this show tick. Guidice, of course, is the NeNe Leakes of this year's crew. Snider even showed up in the past "Apprentice" and looks to be this year's Meat Loaf type. Hall will surely make his presence known, as will Carolla. Aiken will mix it up for sure, too."
Takei married Brad Altman in September 2008.
As you may recall, Trump has been loud about his opposition to same-sex marriage and partner benefits for same-sex couples.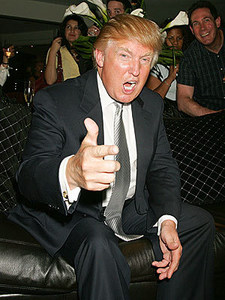 The Des Moines Register spoke with Trump in March:
"Asked whether he supports allowing same-sex couples to marry, Trump said no. Iowa conservatives have overwhelmingly opposed the 2009 Iowa Supreme Court decision overturning the state's ban on gay marriage."
"They should not be able to marry," he said. But asked whether gay couples should be able access the same benefits as married couples, he said his "attitude on it has not been fully formed. Given a second to think, Trump said on marriage and civil benefits, "As of this moment, I would say no and no."
You might also recall that he compared same-sex marriage to an ugly golf club.
"It's like in golf," he said. "A lot of people — I don't want this to sound trivial — but a lot of people are switching to these really long putters, very unattractive," said Mr. Trump, a Republican. "It's weird. You see these great players with these really long putters, because they can't sink three-footers anymore. And, I hate it. I am a traditionalist. I have so many fabulous friends who happen to be gay, but I am a traditionalist."