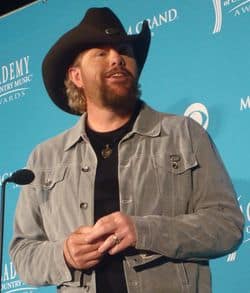 He has all but endorsed same-sex marriage: 
"That whole gay issue thing, that's never bothered me," Keith told CMT Insider correspondent Allison DeMarcus. "I've never seen what that affects and [why] anybody should care – and they never do affect me."

He continued, "First of all, we're going to stop somebody from getting a marriage license because they're gay? You won't stop them from living together, so what have you accomplished? … Wasting a lot of money here and a lot of time that could be spent working on this deficit that we're under … I never saw the reasoning behind getting in people's personal lives."
Keith did express some reservations about gays and women in the military but concluded: "As long as females and the gays and the soldiers are all killers and ready to fight people off … get 'em!"
Ten years ago, Keith might have been run out of town like the Dixie Chicks for his live-and-let-live attitude. But today, I can imagine his record sales not plummeting because of this.
Anyway, his comments aren't so surprising after all: Keith is a Democrat who has publicly supported Obama.