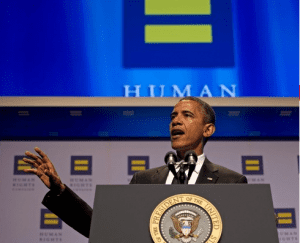 President Obama was urged this week to come out for gay marriage in his address to the Human Rights Campaign. He didn't do so last night – not explicitly. But did he imply it? Toward the speech's end, he cited New York's marriage law as a triumph of democratic change. Might that be an indirect way of saying, "I'm with you on marriage"? 
It's progress led not by Washington but by ordinary citizens, who are propelled not just by politics but by love and friendship and a sense of mutual regard. It's playing out in legislatures like New York, and courtrooms and in the ballot box. (…) It happens when a father realizes he doesn't just love his daughter, but also her wife.
It's disappointing that the president won't make his "evolving" position clear. But last night's speech was nonetheless a juggernaut. It opened with a wisecrack: "I also took a trip out to California last week, where I held some productive bilateral talks with your leader, Lady Gaga." Snarky, yes: Gaga as Kim Jong-Il. The president throwing shade.
Joking aside, he seemed acutely aware of the complaint he's getting from the LGBT community: that he's too slow on civil rights. So he reminded us that he has never counseled patience in the fight, which he conflated with the movement for black civil rights. Then, without sounding triumphal, he went through the stack of accomplishment in his first term: hate-crime legislation, DADT repeal, abandonment of the government's legal defense of DOMA (whose repeal he backs), lifting of the HIV travel ban, the "first comprehensive national strategy" to combat HIV/AIDS, hospital visitation rights for gay partners. (He didn't mention the State Department's new policy that makes it easier for transsexuals to change their passports.)
Nothing to sniff at.
He also threw his support behind the next priority: a workplace anti-discrimination law. That one's a tall order. To pass, it will need a fierce follow-through from the president.
His words for gay teens were moving – using the bully pulpit to go after bullies. Six years ago, when I came out of the closet in early high school, I couldn't have imagined a sitting American president (Bush, at the time) saying something like this: "I want all those kids to know that the President and the First Lady is standing right by them every inch of the way. I want them to know that we love them and care about them, and they're not by themselves. That's what I want them to know."
He also turned his speech to the economy, and in so doing made it clear that he regards gay people as people, as participants in democracy and not as a ghettoized demographic to be courted once-a-year in the dialect of gay politics. That might sound like a minor point, but it strikes me as important. He summarized his economic message with a simple formula: America is "big," not "small." We're powerful and just. We're not the unforgiving, anarcho-capitalist jungle that the far-right idealizes. 
The AP is calling the president "combative" for skewering the Republicans' staying mum while the debate crowd booed a gay soldier. But I wouldn't call his approach combative so much as dignified and matter-of-fact. Someone needed to say it: 
We don't believe in the kind of smallness that says it's okay for a stage full of political leaders – one of whom could end up being the President of the United States – being silent when an American soldier is booed. We don't believe in that. We don't believe in standing silent when that happens… You want to be Commander-in-Chief?  You can start by standing up for the men and women who wear the uniform of the United States, even when it's not politically convenient.
Hear, hear!
EARLIER: Watch the President's speech to the HRC. (Starts at 9 mins, 30 secs)