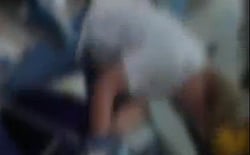 New news from Unioto High School in Chillicothe, OH, where an alleged gay bashing was recorded on a cell-phone camera.
As Andy reported on Thursday:
A student at Union-Scioto High School … was brutally beaten this week by another student for being gay. Class members watched as the bully waited for the student to arrive in the classroom, grabbed him, pushed him to the ground and punched him in the face several times.
Originally, the incident earned the bully a mere three-day suspension, even though the victim sustained dental damage and a possible concussion. Now that the video of the beating has gone viral, Unioto principal Jim Osborne says the penalty may change. "The discipline has been revisited based on the ongoing investigation and in light of the new evidence," Osborne told the Chillicothe Gazette.
Presumably, some of the "new evidence" to which Osborne refers is the recording of the beating. Yet the principal also told the Gazette that the student who made the recording has herself been disciplined. Whether that's because she was in league with the bully, or because her surveilling has caused Unioto High so much embarassment, Mr. Osborne declined to say.
Regardless, the young documentarian's mother has temporarily removed her from school. The bully is still serving his suspension, and may face worse. According to the Gazette:
Ross County Prosecutor Matt Schmidt said he has asked the sheriff's office to investigate further and get medical records for the victim if they exist … The extent of the injury and the medical records are needed for Schmidt to help determine if the assault meets the criteria to be considered a felony. His office is waiting on charging the juvenile until the additional investigation is completed.
If you haven't seen it yet, you can view portions of the cell phone vid, as well as an interview with the victim's mother, AFTER THE JUMP …